FINAL CONFERENCE OF THE RESTART 4.0 IN PADOVA
Home

FINAL CONFERENCE OF THE RESTART 4.0 IN PADOVA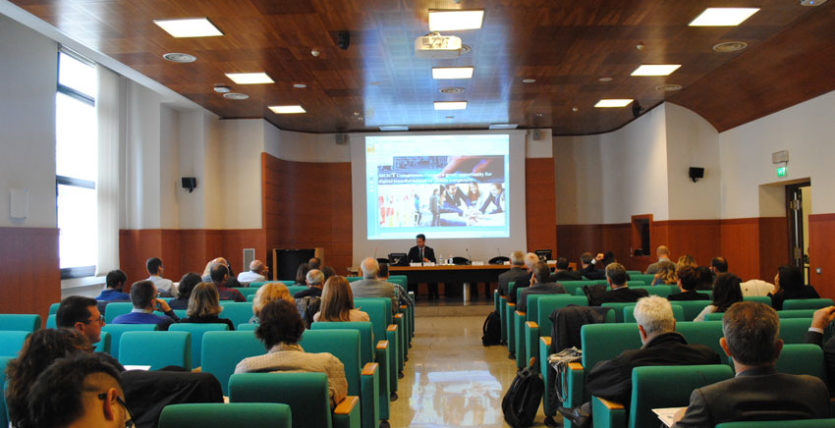 On Tuesday 15th October, the final conference of the RESTART 4.0 project was held: an important moment for the presentation of the tools developed and the main results emerged.
The two-year project, started in October 2017, has allowed to foster relations between the industrial sector and professional training institutions in order to improve the matching between demand and supply of 4.0 skills following the industrial and technological developments that are having a considerable impact on the European labour market.
The Conference, which took place in the middle of the European Week of Vocational Training (European VET WEEK) and is part of the events of the DIGITAL MEET 2019, allowed an exchange with speakers of international level. After the opening by the Councillor of the City of Padua Diego Bonavina, the President of the Chamber of Commerce, Antonio Santocono, and Sandro Dal Piano, Director of Communication and Promotion Area of Enaip Veneto, the event offered to the participants some interesting elements to better understand the digital revolution: how to meet the growing demand for key skills for Industry 4.0? how to put them at the service of companies and the world of vocational training?
Thanks to the reports project's partner, it was possible to focus on the results achieved by the project, the training experiences in the different countries involved and some innovative experiences of the territory, such as the Competence Center SMACT, the Galileo Visionary District and the Padua Innovation Hub. Finally, Davide Dal Maso, social media coach, illustrated how the phenomenon of digitization is rapidly transforming the daily lives of each of us, as well as the strategies of companies.
The event proved to be a valuable opportunity to offer an overview of the state of digitization in Europe and Italy. It then emerges that training is an indispensable tool to anticipate changes in the world of work, turning challenges into new opportunities. At the end of a two-year work experience, which allowed to identify the skills required by Industry 4.0 and then develop a set of training tools to allow an effective (re)qualification of personnel in the industrial sector from a 4.0 perspective, it is now time to return to the territory the experiences of study and exchange made at the European level and facilitate a "cultural change" from a 4.0 perspective.